Humber Squash Organisation

sub navigation
squash club links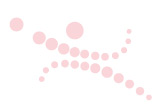 Squash is "alive and well" and living in Barrow
This year has seen a new injection of life into squash at Barrow. New owners Eugene and Cathy Deegan are delighted with the enthusiasm and commitment of the existing and new members and the help received from Coach Danny Murphy, Humber Squash and England Squash.
With everyone's help our junior section has flourished. A committee was set up for the junior section and an Awards for All grant was successfully applied for. This enabled 6 our members to become Level 1 coaches, training equipment to be purchased and got the charismatic coach Danny Murphy on board. With Danny's help we went into two local schools, John Harrison at Barrow and Goxhill School, coaching a 5 week course which saw the pupils coming to the club on the final week of coaching. This introduced approximately 90 pupils to the game of squash, most of who had never heard of the game before. Alongside this Danny also ran junior squash coaching on Saturdays for two age groups. The juniors only paid a ?1 registration fee on the first day and the coaching was provided free. This attracted over 50 juniors to register and attend regularly with most Saturdays having in excess of 30 juniors.
Junior Squash awards night and competition.
On Saturday 15th of December an awards and competition night was held for the junior section. There was a tremendous turnout with 33 of our under11's and 17 of our under 18's attending. The under 11's took part in a quiz, watched the under 18's tournament, received their certificates of achievement for squash and a selection box from Danny and demolished the buffet. Danny also presented some medals for attitude, commitment and behaviour. The under 18's competition was a fiercely fought contest with many close knockout matches played in the opening rounds. There could be only one winner though and after many gladiator like battles on the court only two remained standing for the honour and glory of winning the title.
Those two were Richard Holt and Jack Finnis. As Richards father and Jacks family watched on the battle raged in a match that could have gone either way. At the end the victory went a good technical and court awareness game played by Richard. Jack accepted defeat gracefully and admitted not playing to his full potential, would it be enough to beat the might of Richard remains to be seen in the New Year, "Watch This Space". The winner and runner up were presented with their trophies by Danny and all participants were given a medal by Danny. Still hungry for battle, all competitors proceeded to play a "friendly" game of 3/4 court for the next 40mins or so before attacking the buffet. We would like to thank everyone for making the night special, juniors, parents and coaches alike.
We would also like to thank Danny Murphy for helping to set strong foundations for junior squash at Barrow without his help it wouldn't have been so entertaining and enjoyable. Steve Harris has stepped in several times to assist and given us guidance along the way, thank you. Our internal coaches Mark "The King" Bell, Jonathon "Jonty" Allcock, Stan "The Man" McVeigh, Paul "The Prince" Bell and Dave "The Rave" Manifold, a big thank you for your continued help and support and your commitment to the future of squash here at Barrow.
The Minister for Sport, the Right Hon Richard Caborn MP performed the official opening of the new headquarters of the National Association for Voluntary and Community Action (NAVCA), which are based in his constituency in Sheffield, on Friday 8 July.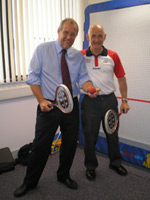 The occasion was also used to mark the launch of a new project run by NAVCA and funded by Sport England, which is intended to improve links between the voluntary and community sector and the local sports sector. The project employs a fulltime Sports Partnership Strategic Advisor, who will have two main roles - to encourage local voluntary sector infrastructure organisations (usually called Councils for Voluntary Service) to extend their services and support to local sports organisations; and to assist CVS in encouraging local voluntary and community groups to extend participation in sport to their members and clients.
In his speech, the Minister made particular reference to the government's targets for extending participation in sport, and stressed the increasing involvement of schools in developing sporting opportunities for their pupils. The picture shows the Minister trying his hand at Mini-squash on equipment loaned by Humber Squash which, with the aid of an Awards for All grant, has taken mini-squash into local schools in Humberside and given 1,500 children the opportunity to try it over the past year.
With the Minister is Mike Clemson, a member of the England Over 60's squash team and of the England Squash Masters Committee who, before his retirement three years ago, worked for NAVCA as a Development Officer for seven years, and so has a unique perspective on the potential interface between the voluntary, community and sports sectors at a local level. Mike stressed to the Minister that much is being done to widen and maintain participation in squash by 'masters' players (i.e. those aged over 35) as well as the work being done to encourage juniors to take up the game.
newsletter
Subscribe to the Humber Squash Newsletter and we will send you up to the minute match reports, news and scores to your email inbox for free!

squash websites